Because you're desperate to know what I think of my stuff...
I think I'll start with
Queen Live: A Concert Documentary
by Greg Brooks. This is the first edition, so there are plenty of errors, but it is informative. I think I got this when I was 12 years old..? I became protective of it immediately because shortly after opening it on Christmas, my brother decided to be an asshole and hide it from me. His cute, harmless prank resulted in damage that has since been fixed with scotch tape. So I went through a short phase where I took it to school with me because I was so scared of it being completely destroyed before I could read it. Well, I think I almost got in trouble the first couple times my teachers saw Freddie all rocking the eye liner and looking all seductive and shit. But once they realized it was Freddie Mercury, they seemed to cool down - as long as I could focus on my school work and resist the temptation to get distracted by the book I
really
cared about.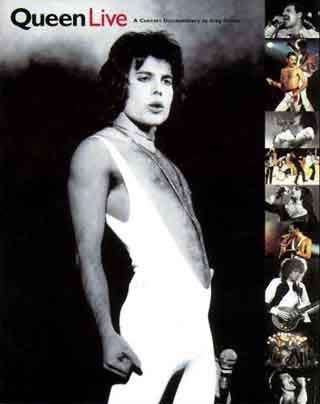 Thank you, Queenpedia!
Despite the errors, I really do enjoy this book. It's chock full of geeky information and pictures. Plus I'm pretty sure this and the second edition are out of print, so that makes it even more special.
And then there's
The New Visual Documentary
by Ken Dean. Really, the only selling point for me is the pictures. Having owned and read Greg Brooks first, you could see it in the writing that he really fucking loves and cares about Queen. Ken Dean, however, sort of read like he was obligated to write his book. He didn't refer to any of the band members by their first names, even! Not that that's a requirement, but it added to the coldness.
The UK single jacket for Fat Bottomed Girls with the naked woman riding a bicycle and a pair of red panties painted over her ass apparently, "reeked of cheap gimmickery." ... Ken Dean's words, not mine. Maybe he's right. Maybe he's wrong. But after so many pages of disconnected writing, this sudden emergence of opinion felt like a slap in the face as I read it. This book is also out of print.
And then there's
Freddie Mercury: An Intimate Memoir By The Man Who Knew Him Best
by Peter Freestone with David Evans. Sadly, this book was accidentally left behind in Illinois, but it remains one of my favorites despite my not having read it for years. I could be remembering it incorrectly, but I don't recall it being too personal (read: I love Freddie and all, but I don't need to know what specifically he did in the bedroom), but it was close enough that I could pretty easily picture Freddie hanging out in his house and stuff, y'know?